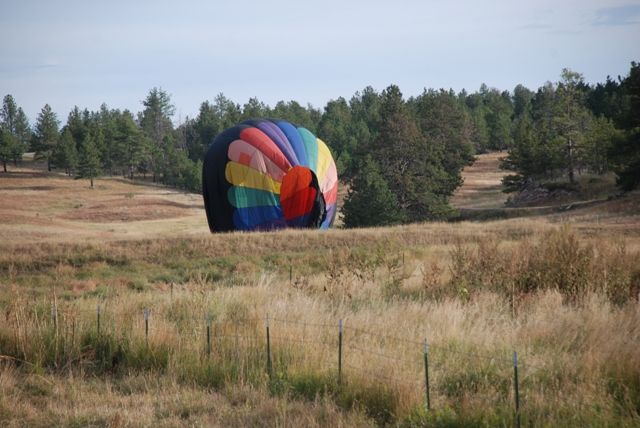 There's more than one way to see the Black Hills. You can of course, drive through it by car or RV, but you can also hike it, bike it, horseback ride it, or get up a little higher and see it from a hot air balloon.
During the summer, it is not uncommon to see Black Hills Balloons floating through the sky early in the morning over the tree-covered Black Hills. In the past, there have been times this well-known local hot air balloon drifted over our place close enough to hear people's voices. Other times I've been outside and heard a loud SHHHH…SHHHHHH…–the sound of the heat being released to lift the hot air balloon higher.
This time it landed just north of our house and didn't even know the hot air balloon was in the neighborhood until I stepped outside, so I missed seeing it land.
Since it's not easy to stop or land a balloon where the operator wants to, he has to manipulate the balloon to a good landing spot according to wind direction and landscape.
There have been half a dozen times that it's landed on Kirk ranch property and it's always entertaining to watch, especially when they drift over from far off. The operator does a good job considering there are so many trees, rocks and hills to work around.
One morning I witnessed (but was too mesmerized to think of getting my camera) the balloon land 200 yards east of our house in a near crash landing which is rare. I watched them coming in a little too fast due to a sudden breeze. There were a few brief panic screams as the basket tipped over and dragged a little before it came to a complete stop but luckily no one was hurt.
Sometimes you just never know who's going to drop in at the Kirk ranch.