Once calving season is in full swing, the thought of fixing supper gets to be a drag and a hassle. Since my energy and concentration starts to dwindle around suppertime, I try to simplify feeding my family by relying heavily on my crockpot to do a lot of my cooking for me (actually I have two crockpots).
Using my crockpot saves me a lot of time preparing supper and having to clean up a lot of dirty pots and pans. I know myself well enough that when I'm tired I don't feel like spending much time in the kitchen preparing or cleaning up supper dishes. A crockpot relieves my guilt about needing to make home-cooked meals for my family yet satisfies my low, unmotivated energy level to spend an hour and a half preparing, serving, eating, and cleaning up supper.
A lot of times I will cook up a box of pasta or some egg noodles on the weekend and refrigerate them for use throughout the following week in different crockpot recipes.
I cook up a lot of roasts that I can make several different meals out of such as roast beef with potatoes the first night, then French dip, barbeque beef sandwiches, roast beef enchiladas or tacos, or open-faced roast beef and cheese sandwiches with onions or other toppings. I also almost always have leftover cooked roast beef and barbeque ribs from when I fed the crew that helped us work cows in the fall, so I dig them out and heat them up in the crockpot for a meal or two as well.
A perfect fork-tender roast beef I cooked on low for 11 hours.
I served this roast the same night I cooked it; with potatoes that I scrubbed, cubed, and baked with sliced mushrooms, some sour cream, cream of celery soup, salt and cracked black pepper and a dash of dry ranch dressing mix.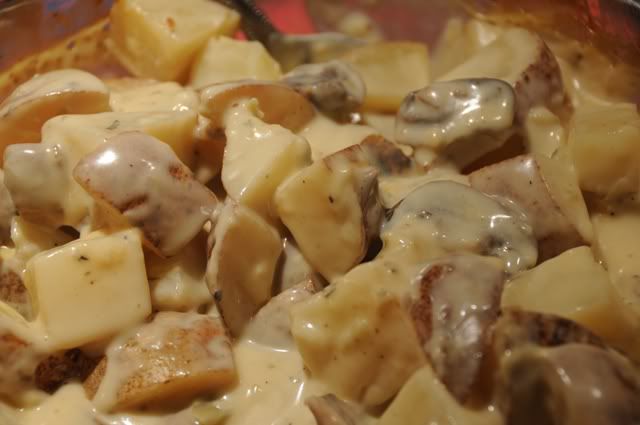 I also use my crockpot to make a lot of family favorite soups, stews, chili, and pasta dishes. Sometimes I throw together a chicken or pork chop dish in the crockpot but only on occasion since my family favors beef dishes the most.
One family favorite crockpot meal is a pasta recipe I got from a friend who served it at a girlfriend get-together. This is great with breadsticks or garlic bread toast and a side salad.
Crockpot Pasta Meal
1 ½ lbs. lean ground beef cooked and drained (½ burger, ½ Italian sausage is good too)
Small jar of spaghetti sauce or homemade salsa
1 chopped green pepper
¼ c. chopped onion
2 cups tube pasta; penne or mosticolli for example. (I use pasta I cooked earlier). The big thing for me is that I don't like my pasta mushy so I tend to throw it in about a ½ to an hour before serving just so it gets heated through.
Container of cottage cheese
1 c. shredded mozzarella
Sliced black olives, optional
1 T. dry Italian seasoning mix
Mix all except the pasta and add it ½ hour to an hour before serving
It varies how long I cook it in the crockpot but generally 2-3 hours. I cook it on high for less time, on low for longer times.
The following three soups are either creations of my own from whatever was in my pantry or my extremely modified versions of standard recipes.
Taco Soup
4 c. water
1 can Rotel tomatoes undrained
1 ½ lbs. cooked hamburger
Small can green chilies
½ green pepper chopped
½ onion chopped
1 ½ c. salsa (I've also substituted 1 can green enchilada sauce, which is also very good)
1 c. frozen corn
1 can black beans (I'm not a fan of beans so I omit but many people like it with beans)
1 Pkg. taco seasoning mix (or 2-3 Tbs. if you're using homemade taco seasoning)
Heat in the crockpot on low 5-6 hours. Serve with sour cream, shredded cheddar cheese and tortilla chips.
Beef Barley Soup
3 Round steaks cooked and diced or stew meat cubed
4 c. water
1 can diced tomatoes
1 c. chopped onion
1 c. chopped celery
2 cloves garlic, minced
¾ t. dried rosemary or basil, crushed
1 bay leaf
1 c. mixed frozen vegetables or ½ frozen corn, ½ frozen green beans
1 c. scrubbed and unpeeled, diced potatoes
¼ c. barley
Good served with beer bread, biscuits, or bread sticks
We're not big yard bird (aka chicken) eaters but this thrown-together soup idea was a big hit with my family so I wrote down the ingredients I used for serving in the future.
Chicken Tortilla Soup
3 cans water
1 can evaporated milk
2 c. cookedshredded chicken
1 ½ c. frozen corn
1 can Rotel tomatoes
1 can cream of celery soup (can use cream of chicken if you prefer)
Sliced jalapeños, optional
1 can black beans, optional
Small onion chopped
1 pkg. taco seasoning mix or 2 Tbs. homemade kind
Serve with flour tortillas cut up into bite size squares
Once you get to know your crockpot you'll become the best of friends.