Having a "Gin Tournament" on holiday family get-togethers has become a family tradition in the last decade.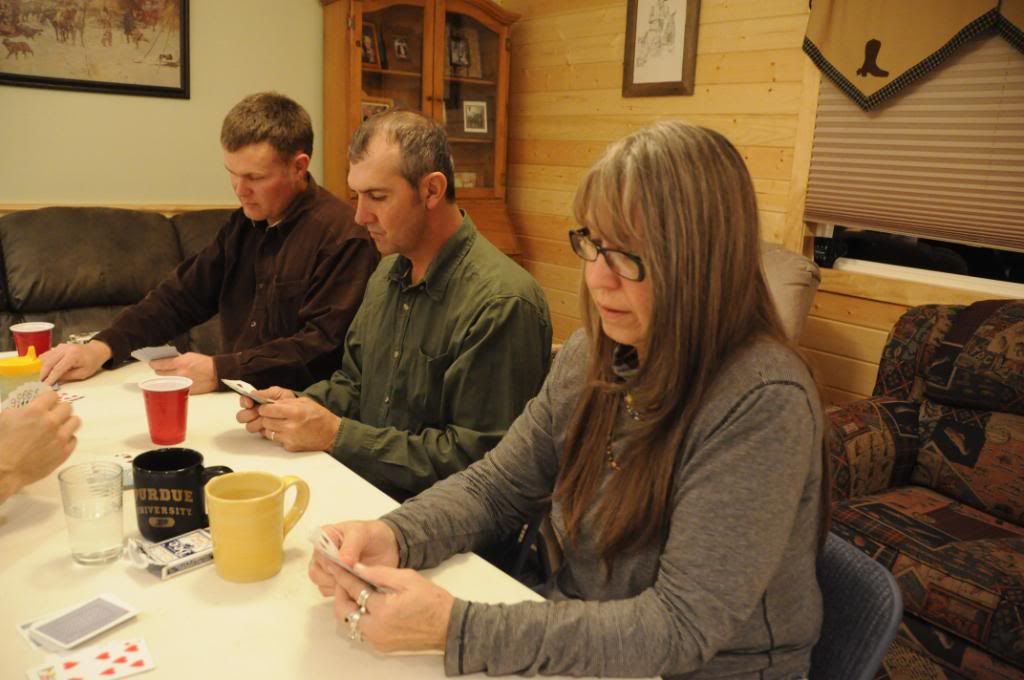 When my brother Clay was dating his now wife Sue,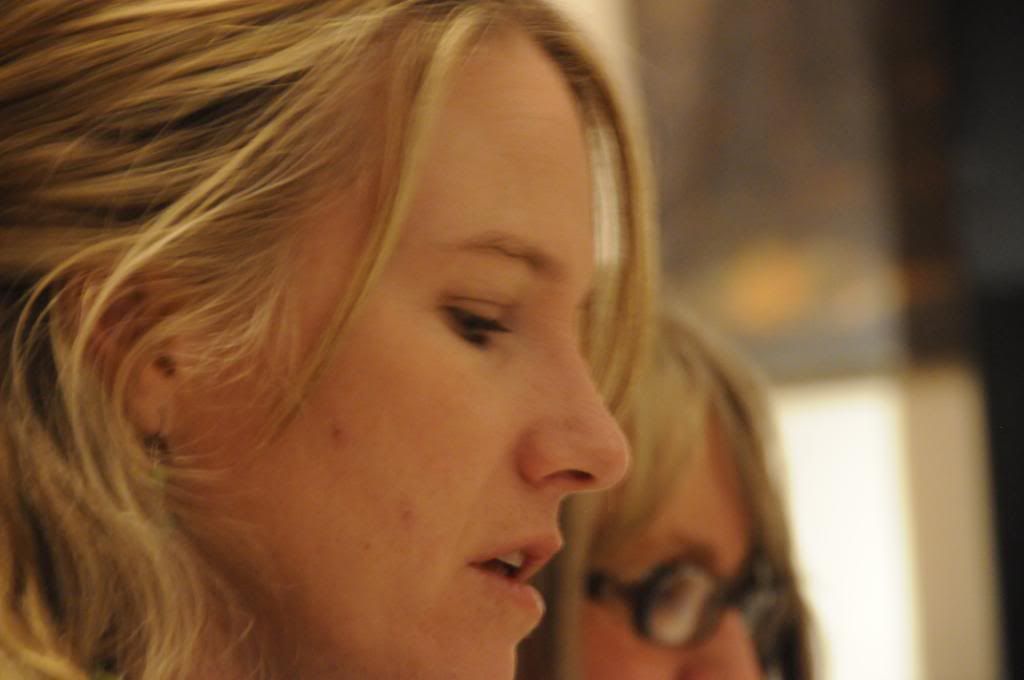 he was introduced to the card game gin while visiting her family on their ranch near Enning, South Dakota.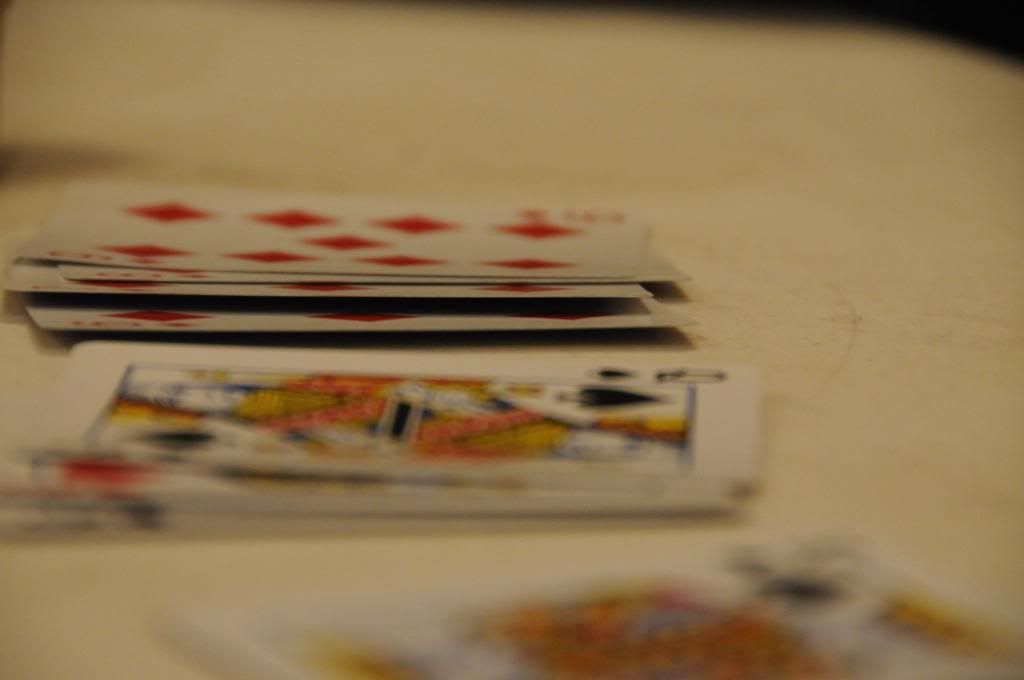 Her folks play a lot of gin and it shows. Most of the time our gin tournament winner is Sue's dad or mom if they join us for the holidays. 
Once Clay got hooked he had to show the rest of us how to play and now my husband, kids and I have all become gin fans also.
I like gin because it was easy for me to learn and understand and even if it's been a long time since I've played, it usually doesn't take me long to recall how to play it.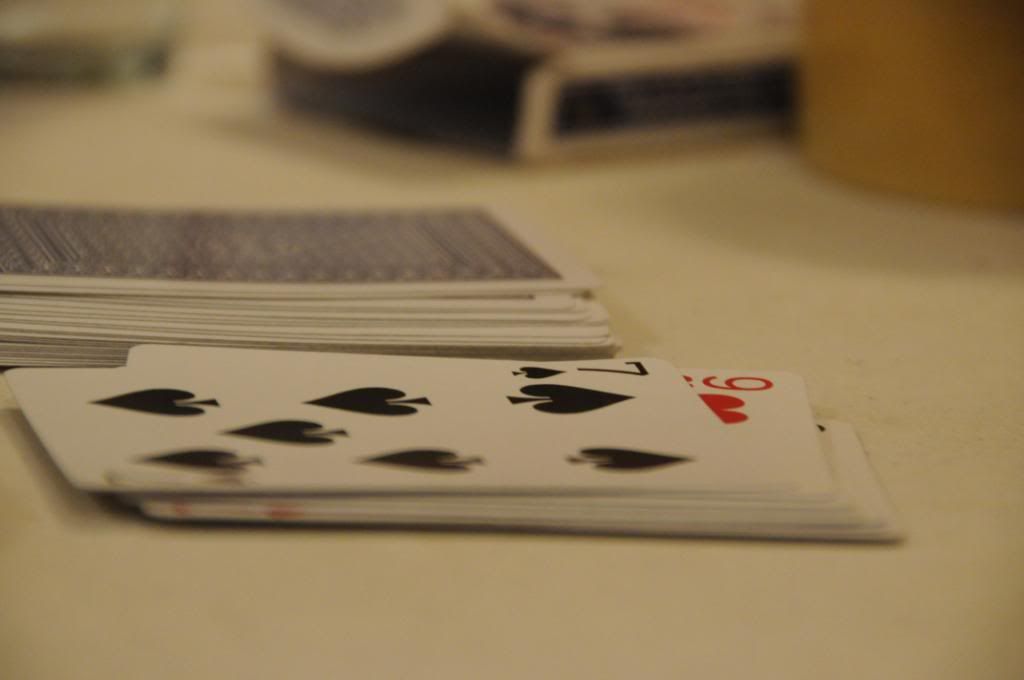 We always make sure the host has plenty of card decks or that someone is bringing extras. 
My son swears that the "Bee" card deck brand is the best.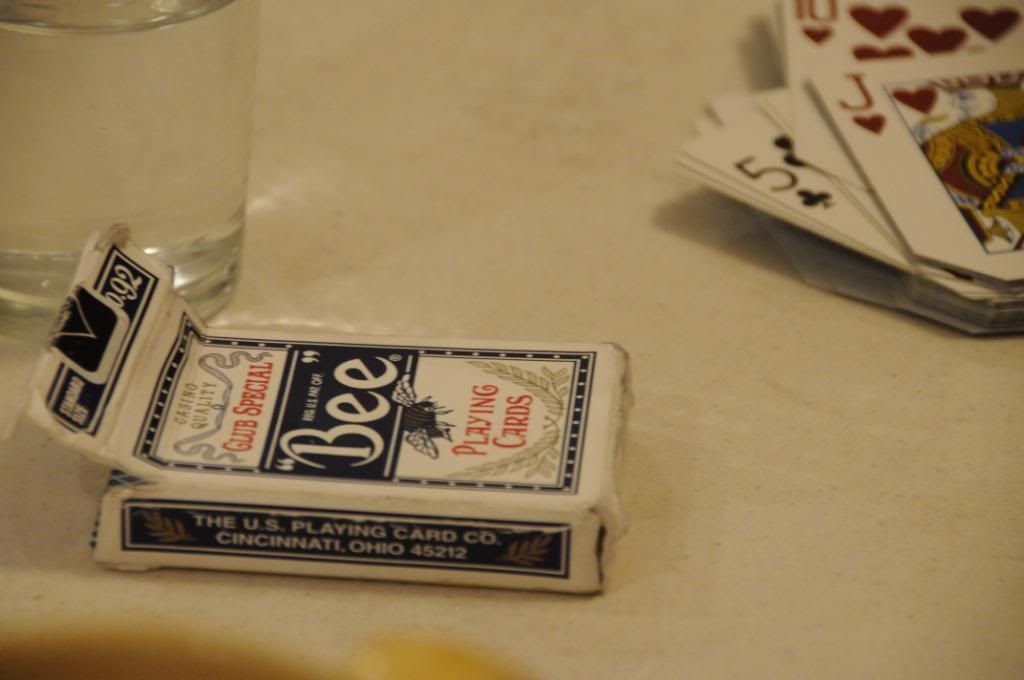 Occasionally Sue's folks will join our family for a holiday and playing gin with them several years ago is how the traditional gin tournament got started.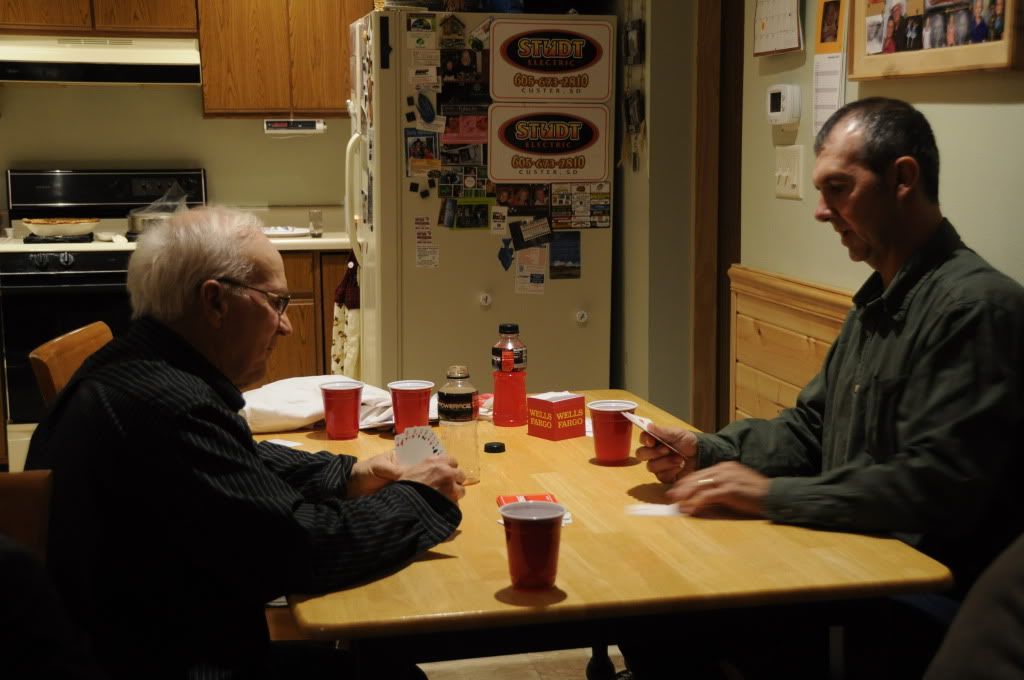 My brother Clay, gets along great with his mother-in-law but likes to tease her and calls her the "DM," or "Dreaded-Mother-in-Law" but when we're playing gin, she's known as "The Crusher" because she's good at gin and is the player everybody tries to beat.
When we have our tournament, all of the losers of each game has to rotate; the winners get to stay put. We typically play enough games of gin until someone reaches 200 points.
Now, whenever we're all together for a family gathering or more especially, a holiday, we top off the meal with a gin tournament.
It's become a highly anticipated family activity.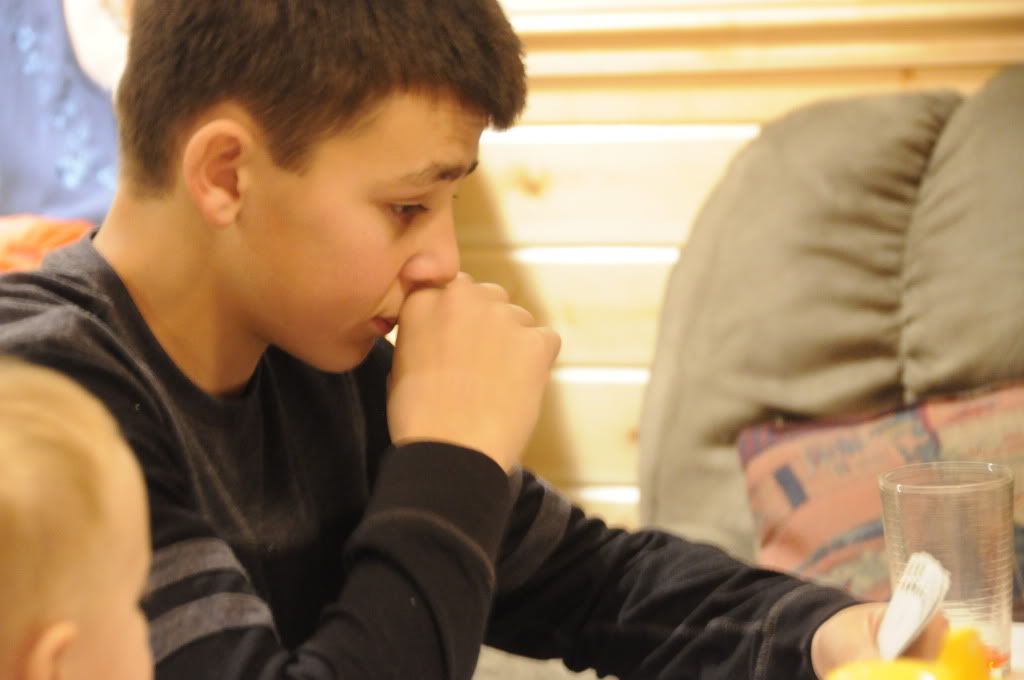 It's also a fun way to interact with each other,  joke around and visit.
Our "scorekeeper"—my youngest brother Jess and his wife Joanna's son.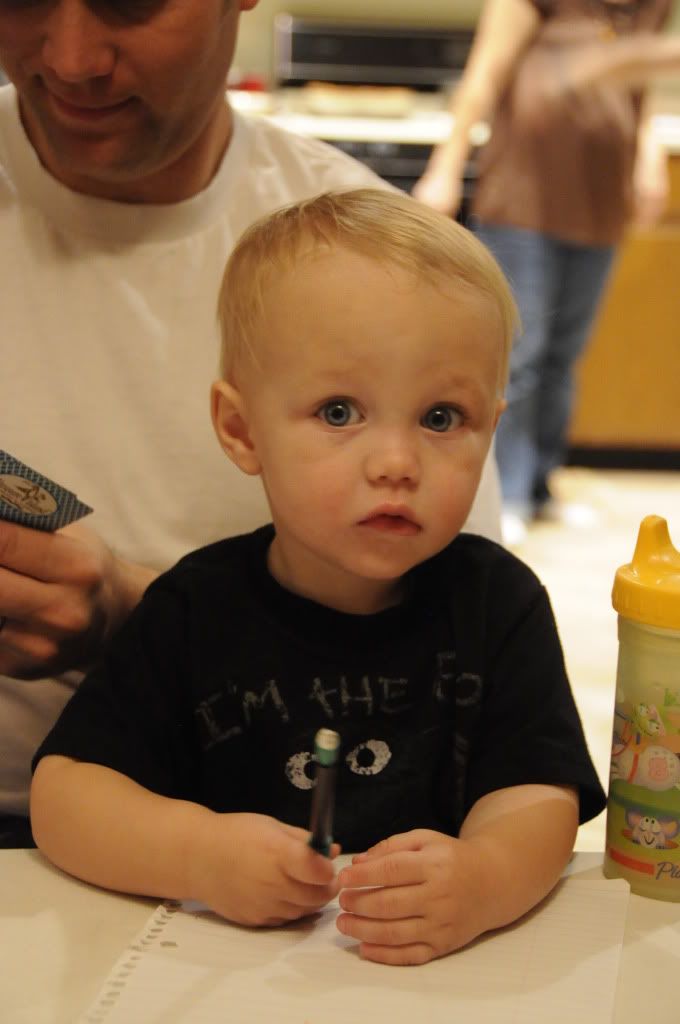 Since my household doesn't have cable or satellite television, gin has become a popular family favorite activity in the evenings at our house but more especially on Sunday nights throughout the winter months. Oftentimes someone will suggest a game of gin after supper as part of our way of decompressing from a busy weekend and has become a welcome relaxing activity we can all participate in the night before the start of a new week.
We play other card games as well but gin usually takes priority most of the time. What I like the most about playing cards as a family is that it encourages good family bonding time, joking around with each other and my husband and I get to enjoy great conversations with our kids. Playing cards has become an established family tradition in our home as well at family holiday gatherings that will turn into good childhood memories for them to enjoy and look back on when they grow up.