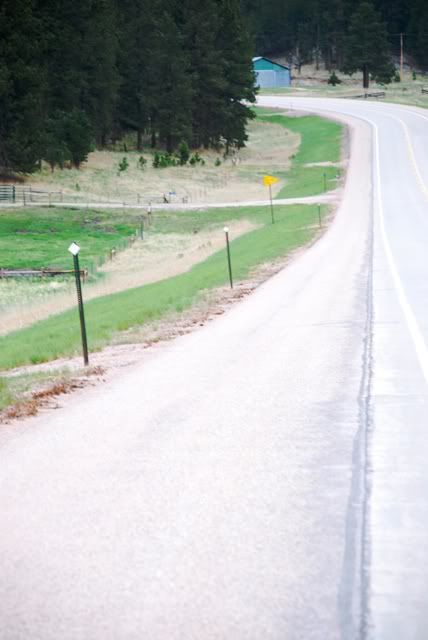 I really have no reason to show you this stretch of highway other than to say that this is where a little Love and Logic took place with my kids once years ago.
Before I share my Love and Logic moment, let me back up. If you're not familiar with Love and Logic, it's a parenting style; one that I prefer to use with my kids and practice in order to keep myself sane. I was introduced to Love and Logic parenting years ago through Parents as Teachers: a parent/child interactive program that I participated in with both of my kids during their development from birth to kindergarten.
Like all parents, I struggled at times with discipline; always wanting to parent the right way, tired of yelling and not being effective, and striving to do the right thing and be a good parent. After being introduced to Love and Logic, I checked out some of their parenting books, took tons of notes to refer to later when in dire need of help and began making an effort change my ineffective parenting habits.
Eventually, our school also began offering six weeks of free Love and Logic classes every year which was paid for by the school's pie sales fundraising. Between the Love and Logic books, videos, and classes, I now consider myself a Love and Logic parent, but I wouldn't say I'm an exemplary one. I still need Love and Logic  parenting "maintenance" now and then.
To get back to the photo , this is where I first tested out Love and Logic on my kids. It was your typical car ride scenario where my two kids wouldn't stop bickering and my polite requests to stop when on deaf ears. Like Love and Logic preaches, I remained calm and offered only two options; to either stop fighting or stop the car so they can do their fighting where I didn't have to listen to them. They ignored the first option so I courageously stopped the car, and told them their fighting was making it very difficult for me to focus on my driving and made them get out of the car. I calmly told them to go ahead and finish their bickering while they walked from the sign to where I would be waiting for them (about 500 yards away). I wished them luck in settling their dispute and drove to the next road sign where I parked and waited. The whole time my heart was pounding and I worried what passing cars thought I was doing dumping my kids off along the highway and driving off, but I kept my eye on them in my rearview mirror and did not falter.
From what I could see, not a word was spoken between them; just an exchange of looks of total disbelief. By the time they arrived at the car, the look of fear and shock on their faces left them totally speechless the rest of the way home. I did not have a problem with back-seat bickering for a long time, but they did relapse and we tried again.
The second time took place here, and they had to walk to the guard rail. Little sister insisted on wearing pajamas that day because we were only going to haul water a short ways from home, so she had to walk in her nightgown. It was also raining that day. Since then it hasn't taken much to end escalating back seat fighting. On long car trips, my kids travel really well together and long drives are a real joy!
I'm a big Love and Logic advocate and highly recommend Love and Logic Parenting especially if you're a frustrated parent (it also works for grandparents and teachers). The Love and Logic parenting style redirects kids' problems back onto them, instead of making it the parents' problem. The biggest challenge is allowing your kids to fail and learn from their mistakes (or refraining from saying, "I told you so") , but like the Love and Logic philosophy suggests, it's better to let them learn a hard lesson when they're young (like not taking a coat, not getting up in time for school, not doing their homework, etc.) than when they're an adult (not making their car payment, driving with someone who's been drinking, etc.). It takes being firm, consistent, and most importantly, not giving in, which can be really hard on parents but if you practice all these things now, it will make parenting when they're old a lot easier.