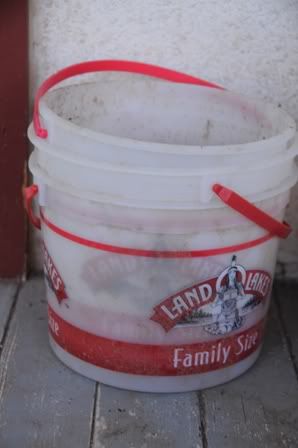 Our family goes through a ton of ice cream (specifically, chocolate chip or vanilla) and it's a good thing, because I don't know what we would do without all the ice cream buckets we use for different things.
A gallon of ice cream usually lasts my family 2-3 weeks and once everybody's enjoyed a gallon's worth of milkshakes, home-concocted malts, and bowls of ice cream, I wash out the bucket and lid and stuff it under my sink until one is needed for something.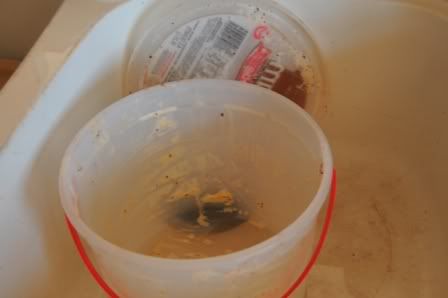 I use an ice cream bucket just for collecting coffee grounds, the filters, and egg shells because I compost our coffee grounds. The grounds are really good for my garden.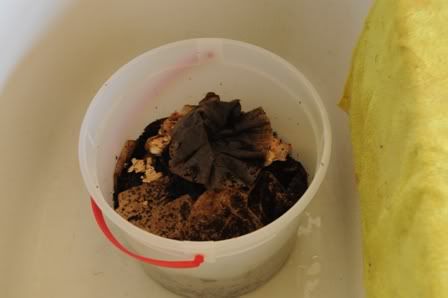 The "chicken bucket" is an ice cream bucket we put all the food scraps we feed our chickens with.
Ice cream buckets also come in handy for collecting the eggs.  All of the meat scraps for the barn cats go in a separate ice cream bucket for easy carrying up to the barn.
We've always used ice cream buckets on branding day for the castrator to sanitize his knife and for collecting the rocky mountain oysters. More buckets can be found out in the shop for their usefulness in holding small automotive parts during a repair job or other small shop items that need to be contained.
I've used ice cream buckets for years to do my housecleaning chores like windows, cleaning out the refrigerator, washing cabinets, scrubbing floors, etc. I keep one in my car as a mini garbage can and my garden shed is full of ice cream buckets that store various things I want to keep mice out of as well. These gallon-size buckets also come in handy when transplanting flowers in my garden, scooping water out of the rain barrel, wall painting projects, and I to use them to contain crayons or other kid items when my kids were little. I've made ice blocks with them (although sometimes the bucket breaks during freezing) for keeping food cold in coolers on branding day, family get-togethers and such too.
Sometimes I have to buy a gallon of ice cream just so we can get some more ice cream buckets but my family is good at helping me out with that.