A few years ago I stopped buying bread and started making my own for several reasons. For starters, homemade bread tastes so much better, but I also liked the idea of knowing exactly what the ingredients were as well as using honey instead of sugar, old-fashioned oatmeal, wheat germ and unbleached whole wheat and white flour.
When it comes to my family, I'm big on creating nostalgic memories with food that will become my kids' comfort foods someday. I wanted to make bread that they would grow up remembering with fondness. I'm a little weird, I know.
Making homemade bread also means more to me as the main (only) cook in our family. It takes effort and more importantly, lots of time on my part but I feel like making my own bread is doing something special that's from my heart for my family.
I used to be a terrible bread baker who couldn't even make decent bread dough because I didn't understand the role of the yeast in bread but became determined to master bread making from scratch rather than with a bread machine. I reminded myself that I would be making mistakes and learning until I got better, but got lots of information from our local extension office and friends I considered excellent bread makers. My biggest challenge is usually finding long enough blocks of time to dedicate to the mixing, raising and baking but it's always worth it.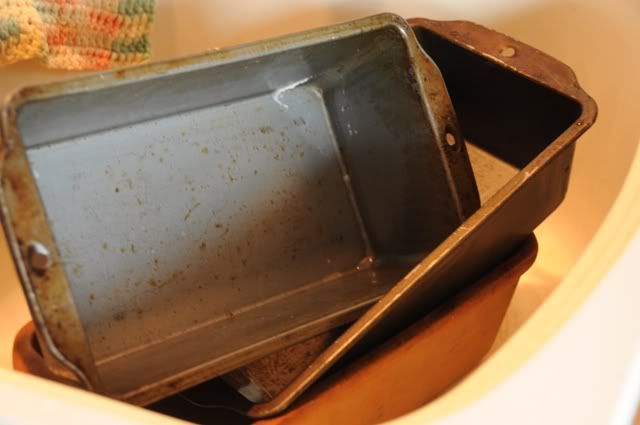 It may sound kind of silly but sharing homemade bread at our table also has spiritual meaning for me. I am always reminded of communion and its deeper meaning when I have homemade bread at our table. Taking communion is a big part of attending church for me and our congregation's members oftentimes take turns making the bread that's provided for communion which I prefer, instead of always using on wafers.
I usually follow the same bread recipe because I've tweaked it to include the ingredients I want my bread to have, such as oatmeal and local honey, but I most importantly, I like the following recipe because it makes three loaves. I usually slice each loaf once they've cooled and freeze two of them for later.
Below is my adapted recipe. The original is from the kitchen of Lutheran Outdoors' Outlaw Ranch church camp in Custer, South Dakota:
Everyday Bread
2 pkgs. (2 T.) dry yeast (I've had the best luck using Fleishman's)
½ c. warm water (110-115 degrees)
1 ½ tsp. sugar
Combine and let foam
In a mixer bowl, combine the following:
¼ c. local honey (original recipe calls for ½ c. sugar)
¼ c. oil (I use canola oil)
1 T salt (I use sea salt)
3 c. warm water
1 c. cooked and cooled old-fashioned oatmeal (½ c. oatmeal + 1 c. boiling water) this is my addition for texture, moisture and the health benefits.
Add with yeast mixture.
Add:
¼ c. wheat germ
3 c. whole wheat flour
3 c. white flour
Mix for 3 minutes and add 4-6 c. white flour, 2 c. at a time. Just add enough until dough leaves sides of bowl and is not too sticky (might not need all of flour). Let rise in bowl greased with shortening for 1 hour or until doubled in size. Punch down and form into three loaves. Let rise 30 minutes. Bake at 350 degrees for 30-35 minutes.
I'm still working on mastering shaping my loaves. The appearance of my loaves would not earn a high placing at the fair but it isn't a priority with me. Sharing homemade bread with my family is.