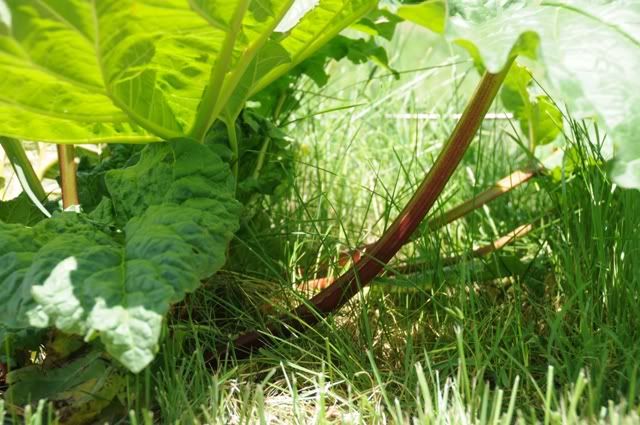 One of my favorite summer treats is having rhubarb.
For those who have never experienced tasting rhubarb, it's very tart, and like chokecherries, it's consumed after it's been cooked with sugar. Rhubarb is an easy to grow perennial plant that's popular in our area and freezes really well. It has a very distinct, unforgettable flavor and aroma when cooked. I consider it a South Dakota signature summer food but I'm sure other states consume it equally as much because of its ease to grow and cook with.
Together with strawberries, rhubarb makes an excellent summer pie and one of those tastes-of-summer kinds of jams. The stalks of the plant are picked when young from the base of the plant instead of cut off to stimulate more growth. If the plant is left to grow too long and the stalks get big, it has a woody taste. Once the stalks are picked, I wash and chop them up and either cook them right away or freeze them in freezer bags for later use.
My husband's not a fruity desserts kind of guy but he admitted the following rhubarb dessert was really good. I got this super easy rhubarb cake recipe from Kraft Food and Family magazine, one of my favorite recipe sources. It's called Rhubarb Dump Cake but I prefer calling it:
Easy Rhubarb Cake
1 lb. fresh rhubarb chopped (about 4 cups)
½ c. sugar
1 pkg. (3 oz.) Jell-O Strawberry Flavored Gelatin
1 pkg. (2-layer size) white cake mix (I prefer using yellow cake mix)
1 cup water
1/3 c. butter melted
¾ c. thawed cool whip
Heat oven to 350 degrees. Place rhubarb in 13 x 9 inch baking dish; springle with sugar and dry gelatin mix.
Beat cake mix, water and butter with whisk until well blended. Pour over rhubarb; spread to completely cover rhubarb.
Bake 45 minutes or golden brown. Serve warm topped with Cool Whip. Sprinkle each serving with ground cinnamon.
This is another rhubarb cake recipe from a family friend.
Another tasty, made from scratch recipe I got from a family friend.
Rhubarb Cake
1 ½ c. brown sugar              1 t. vanilla
1 egg                                 2 c. flour
1 c. sour milk                      2 c. chopped rhubarb
½ t. salt                              ½ c. chopped nuts
½ c. oil
1 t. soda
Mix sugar, egg, and milk. Add dry ingredients with vanilla. Stir in rhubarb and nuts. Pour into greased 9×13 in cake pan. Sprinkle with ¼ c. sugar and ¾ t. cinnamon on top. Bake 375 degrees for 40 minutes. Test cake with a toothpick for doneness.
Rhubarb muffins are wonderfully, tasty surprise and a nice change from my other standard muffin recipes.
Oatmeal Rhubarb Muffins
½ c. old fashioned oatmeal          
½ c. orange juice                       
1 c. white flour                                 
½ c. whole wheat flour
½ c. sugar
1 T. baking powder
½ t. salt
3 T. vegetable oil
1 lrg egg slightly beaten
1 c. fresh chopped rhubarb
2 T. sugar
¼ t. cinnamon
Preheat oven to 400 degrees
In large bowl, combine oatmeal and orange juice. Stir well.
Add flour, sugar, baking powder, salt, vegetable oil and egg. Mix just until dry ingredients are moist.
Gently stir in rhubarb.
Fill muffin cups 2/3 full.
Blend sugar and cinnamon. Sprinkle over batter.
Bake at 400 degrees for 18-20 minutes. Let cool 10 minutes in pan.
Try a taste of summer; make some rhubarb goodies.