It's been a year now since I got my jeep. I had wanted one for years. Jeeps just suit my outdoorsy, adventurous and four-wheel drive personality.
My dad had a 1950's Willyz Jeep he'd bought when he was in high school. It stayed on the farm for several years and eventually he brought it home and got it running again. I have fond memories of riding in my dad's jeep on family outings and learning how to drive a stick shift with it.
Prior to my 40th birthday, I decided I was going to pursue getting a jeep. I felt like I had to do some strategic planning to convince my husband that I needed to buy one even though I was going to do it anyway. (I knew I'd need his help with the under-the-hood stuff.)
My pitch to him was that a jeep could come in real handy on the ranch for me to check cows with. Another sales pitch was that I wouldn't constantly be moving his ranch pickup seat.  My idea took hold and before long my husband had a new reason to search the classifieds; something he loves to do. He spotted one in Deadwood, South Dakota and on Memorial Day last year, we drove up to look at and test drive it. We both liked it and for my 40th birthday he agreed to pay half as his birthday present to me and I got to drive home a 1989 Jeep Wrangler.
Now that I have my own jeep, I'm creating memories for my kids with it, like pumping water.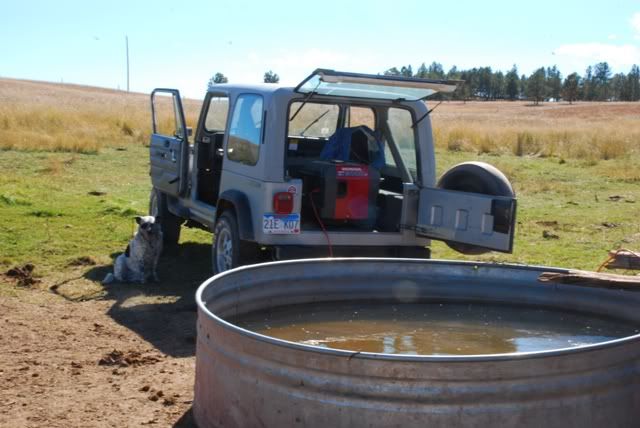 We take it out for fun with the top off in the summer but I drive it near daily out to where our yearling heifers are.
It's not as much fun as taking the jeep for a Sunday drive and a picnic but the thought of getting to drive it does help boost my enthusiasm for doing mundane ranch chores.
It didn't take me long to forget the selling points I'd made my husband about its usefulness on our ranch but he didn't. I was quickly set up with hauling salt out on summer range and was assigned the job of pumping water for our yearling heifers during the summer. In order to do my job, I haul the generator in the back of the jeep so I can plug in the pump and fill the stock tank.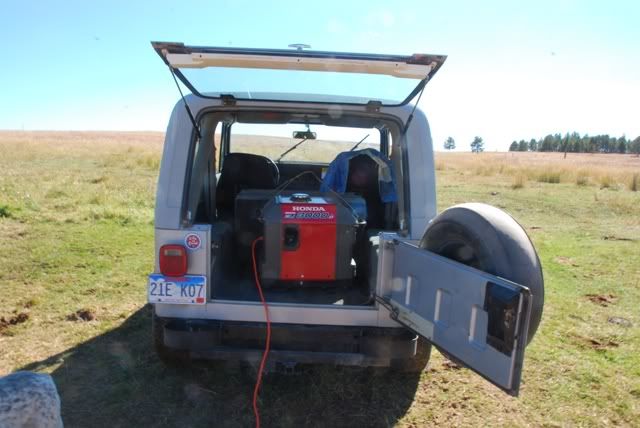 Pepper is my constant jeep companion but many times one of the kids will ride with me also.
Waiting around for the tank to fill is not the most exciting job I've ever done
but getting to take my jeep out at least makes it an enjoyable ride. I can drive in style. And my seat, mirrors, and radio station stay put.