Roast beef is one of my favorite cuts of beef because it's the easiest meat to cook and make meals out of. I usually have our meat processor make 4-5 pound roasts out of our butcher critter for us. I like that I can squeeze three meals out of one roast without much fuss to prepare them. Depending on the size of your family and how much each person considers a serving, you may need a larger roast to get three meals.
I prefer cooking roasts in a crockpot until its fork tender.  It usually takes eleven or twelve hours in the crockpot set on low to achieve fork-tenderness. The key is to not lift the lid during cooking time no matter how tempting it is. Another thing I love about cooking roasts is that once it's cooked, it freezes well. Oftentimes I'll divide a large roast into meal-size portions and freeze for future use.
Cooking a roast is so easy I don't even have to thaw it out. When I've forgotten to take a roast out of the freezer the night before I intended to cook it, I'll place the roast in the crockpot frozen and pour a can of Coca Cola over the roast, sprinkle some dry gravy mix, minced dried onions, dried parsley flakes, over top and maybe a minced garlic clove before putting the lid on. If the roast has been thawed, I may trim some of the fat off and sear all sides of the roast in a heated lightly oiled pan to brown the sides of the roast before putting it in the crockpot. If I'm cheating and cooking the roast from a frozen state, I can usually drain and pick off the fat once the roast has been cooked and is fork tender.
Usually the first meal I prepare from a roast is plain roast beef, mashed potatoes, and gravy made from dry gravy mix (My homemade gravy has a long way to go before looking appetizing). The second night I like to make French dip sandwiches from the shredded roast beef and cook corn or make homemade cream corn, and have a simple side salad. This is my favorite meal to prepare whenever we have company. It's just too darn easy. I broil hoagies or large dinner rolls in my oven (watch carefully! Set a timer for two minutes at a time) and I make au jus from a package mix.
The third meal I like to make with shredded roast beef are enchiladas. All three meals are super easy. The enchiladas are the only meal that requires very much preparation and the recipe I use is as follows from a fellow ranch wife:
B Lazy T Ranch Enchiladas
Heat the shredded roast beef with a package of taco seasoning mix or do like I do and sprinkle 2-3 tablespoons of my Fiesta Dip Mix; a bulk seasoning mix I prefer to packaged taco seasoning mixes.
Add a handful of shredded mozzarella cheese till melted. I have added a cup of well-drained Ro-Tel tomatoes, an extra can of green chilies or jalepenos to the meat mixture also. Spoon the meat into flour tortillas, roll and place seam side down into a slightly greased 9×13 pan. If I discover I'm short of flour tortillas, filling hard corn taco shells with the meat is my backup plan but I have to make sure I cover the pan with foil.
In a small bowl mix until well-blended, one can cream of celery or cream of chicken soup, 1 cup of sour cream, one can of diced green chilies. Pour over the enchiladas.
The recipe doesn't call for any enchilada sauce which my family is okay with because they're not fond of the red enchilada sauce but depending on if I have it on hand, I will sometimes pour green enchilada sauce over the top of the sour cream and soup mix. Sprinkle with shredded cheddar or Colby jack cheese, cover with foil and bake 20-30 minutes at 375 degrees.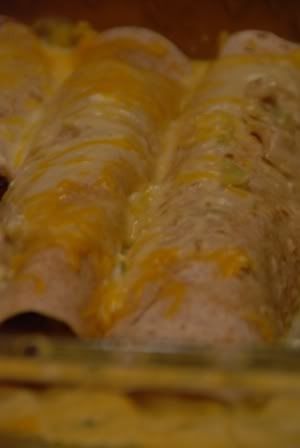 I usually have chopped lettuce, sliced black olives available for toppings.
 
You can't go wrong with roast beef. It's a versatile meat that makes several meals in one week. I always pick easy to prepare roast beef dinners. There are many other recipes that could be substituted for mine, but I have developed a routine of making these three the most. Hope this gives you inspiration for meal ideas.