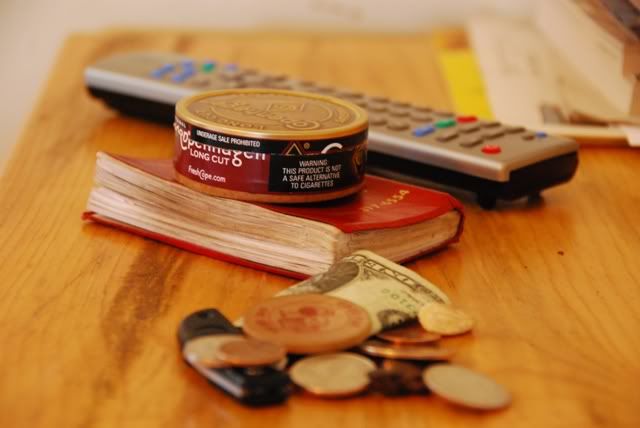 My husband is a creature of habit. I'm more of a creature of chaos. I admire his penchant for routine. If only that kind of habit would stick with me.
Every night he empties his personal belongings on his nightstand. Mine are usually forgotten as soon as I walk in the door. He's very consistent about keeping track of his things. I'm more consistent in losing my stuff. He has to have handy some of his things because he still uses them at the end of the day like his calf record book and snoose. I'll catch him pick up his calf record book while watching a movie in bed and review or add to it more than once before he goes to sleep.
When I need something I use regularly like my purse, notebook or planner, I spend 10-20 minutes trying to remember where I set it last. It's obvious that consistency is the key to finding things.
The only items on my nightstand that are consistently put there are coffee cup stains and fuzzy dust that collects in the dish I keep on my nightstand. It's supposed to be for putting my chapstick, zip drives for my laptop, hair bands and hair clips in, but I rarely do that. Those items are usually left somewhere else in the house. Unfortunately, I never have any change to put in my nightstand's dish either. The items on my nightstand vary depending on what I'm working on before going to bed. Usually it's a book, notes with scribbles, my journal, planner, beer mug, and camera memory cards. Basically a big pile.
My husband's nightstand always has a hanky, reading glasses, of course the remote, and the items he keeps with him during the day in his shirt and jeans pockets: his snoose, calf-record book/calendar, watch, cash, change, and various pocket treasures. At different times he carries oddball things in his pants pocket like a unique coin, an elk ivory tooth worn smooth, and usually this little boot-shaped rock that his mother found years ago and passed on to him.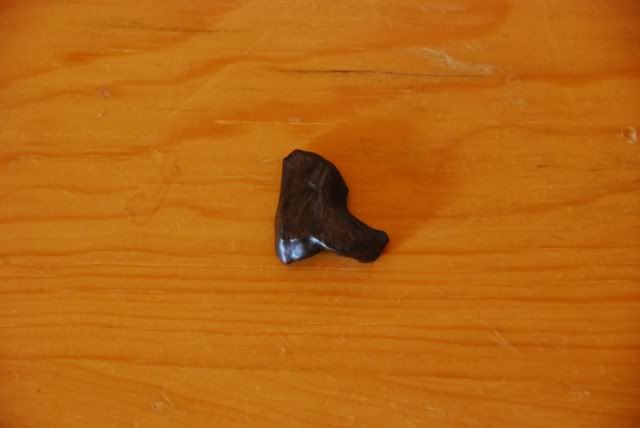 I've always been grateful to have a husband who is consistent, orderly and tidy, I just wish I could've gained his habits as well.