Here are the cookie dough recipes I promised from Wednesday's blog post. Feel free to bake the dough if you want.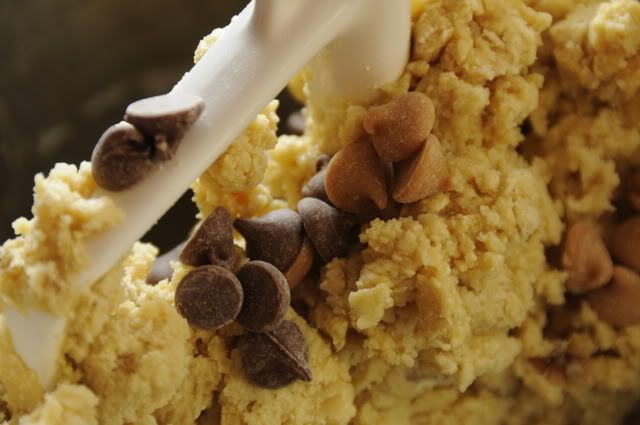 Rosie's Chocolate Chip Cookies
1c. butter or margarine, softened
1 ½ c. brown sugar, packed
1 t. vanilla
2 eggs
3 ¼ c. flour
1 t. baking soda
1 t. salt
2 c. M&M's or chocolate chips (I used peanut butter and chocolate chips and  ½ c. walnuts)
Cream first 4 ingredients together
Mix in next three ingredients till smooth
Add chocolate chips (and nuts if desired)
Drop on cookie sheet and bake at 400 degrees for 8-10 minutes.
Good for high altitude and hungry kids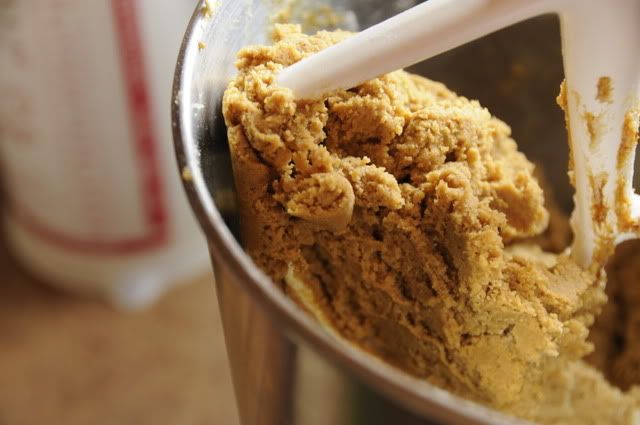 Erin's Gingersnaps
¾ c. shortening (butter flavor is best)
1 c. white sugar
¼ c. molasses
1 egg
½ t. salt
2 t. baking soda
2–2 ¼ c. flour
½ t. cloves
½ t. ginger
1 tsp. cinnamon
Cream shortening and sugar, add egg and molasses. Sift dry ingredients (I didn't) and add to creamed mixture. Roll dough into balls and dip in sugar. Place on a greased cookie sheet 2 inches apart. Bake at 350 degrees 12-15 minutes. This makes a soft cookie (my favorite kind of baked cookie).
Best Ever Cowboy Cookies
(from Family Fun Magazine May 2006 issue)
2 c. old-fashioned rolled oats
2 c. flour
¾ t. baking soda
½ t. baking powder
½ t. salt
1/8 t. cinnamon
1 c. (2 sticks) unsalted butter (I've had to substitute margarine before)
1 c. packed light brown sugar
2/3 c. white sugar
2 eggs, room temperature
1 t. vanilla extract
2 c. semi-sweet chocolate chips
1 c. chopped walnuts
My additions if I have available:
M&M's, Reese's pieces, raisins, cranberries, peanuts, or peanut butter chips
In large bowl stir together the oats, flour, baking soda, baking powder, salt, and cinnamon. In separate bowl blend butter and sugars till smooth. Add eggs and continue to beath until fluffy, then blend in vanilla extract. Use wooden spoon to stir dry mixture into the butter mixture ½ at a time. Mix in chocolate chips and walnuts. Refridgerate 1-2 hours. Heat oven 350 degrees. Scoop cookie dough on greased pan, slightly flatten cookies and bake 13-14 minutes for large cookies (1/4 c. size). When done cookies should be very lightly browned and still look moist. Don't overbake.
Arlene's Sugar Cookies (wife of our church's former pastor)
3 ¼ c. all purpose flour
1 ½ c. sugar
2/3 c. shortening
2 eggs
2 ½ t. baking powder
2 T. milk
1 t. vanilla extract
½ t. salt
Decorative toppings (optional)
Measure all ingredients except toppings. With mixer at medium speed, beat ingredients until well mixed, occasionally scraping the bowl with a rubber spatula. With hands, shape dough into a ball; wrap and refrigerate 2-3 hours until easy to handle.
Preheat oven 400 degrees. Lightly grease cookie sheets. Roll half or third of dough at a time, keeping the rest refrigerated. Roll out dough ¼ – ½ inch thick. With floured cookie cutter, cut into shapes, reroll dough and recut.
Place cookies ½ inch apart on cookie sheets; sprinkle with decorative toppings or sugar. Bake 8 minutes or until very light brown. With large spatula, remove cookies to racks and cool. Makes about 6 dozen cookies.
I have three more recipes I'll post tomorrow. Sampling any of these should keep you busy for one day.