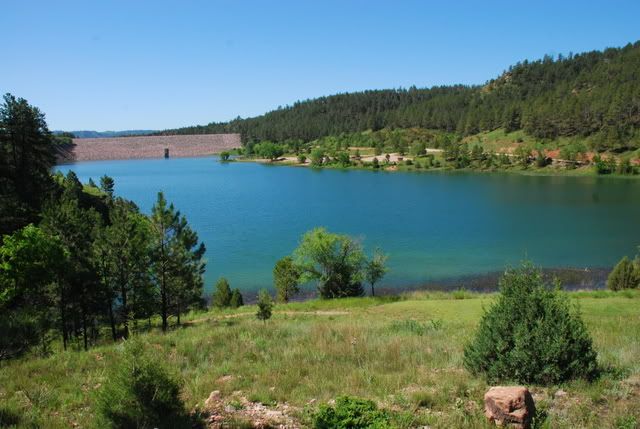 At least once every year in the dead of winter my mind runs away to a much warmer place and time of year. These escapades usually happen at a time when my toes and fingers never seem to stay warm and I've been outside all day.
 
These little mind jaunts are a welcome mental vacation. This is the typical location where my mind can be found frolicking.
 
When it's been cold and snowy for a long time I think about my favorite spot when I've reached a point of being tired of feeling weighed down from wearing layers, having my hands feel perpetually sandpapery, and my lips always chapped from winter that my mind hangs out at this much warmer place.
This year, it was on a chilly day while I was standing in boot-sucking muck next to a cow my husband and I had in a head catch, unable to escape the ever-present odor of birth that clung to my coveralls that I thought about my favorite place to escape. Our frustration was mounting over a calf that wasn't latching on to its mother's teat and I was trying hard to distract my impatience when my mind went on a drive down to my favorite swimmin' hole located about twenty minutes from our home.
I've been other places where it's warmer and there are true beaches, but this is as close as I can get to feeling like I'm at a sunny ocean beach for being land-locked in South Dakota. My mind recalled a cloudless hot day during haying season when the kids and I were able to take advantage of a rare afternoon that we decided to go cool off with a swim at our favorite swimmin' hole. Technically it's a dam but it isn't as large or nearly as populated as other lakes in the area. I think because it's called Coldbrook.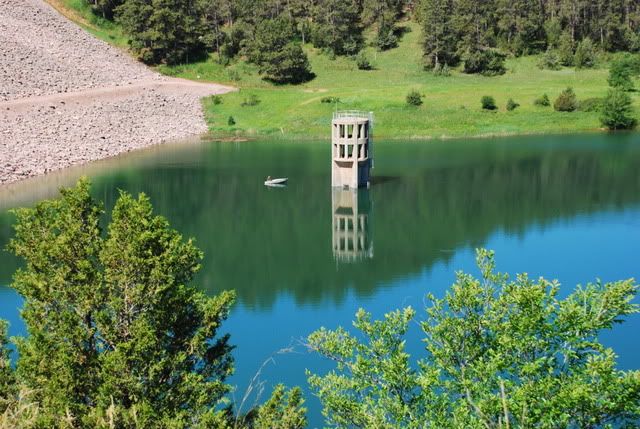 It's in a place that isn't easily accessible from mainstream traffic. I love it here because it's not far from our place, there's not many tourists and it doesn't require a sticker that we have buy in order to swim or fish at.
I come here because it's a place that soothes and refreshes me physically and mentally. The water is comprised of varied hues of blues and greens that calm my mind and is so clear that its depths are magnified.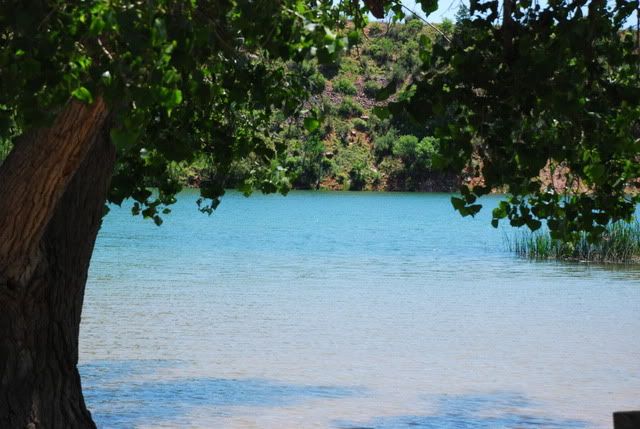 It's a favorite place I like to go to clear my mind. I sometimes come here for inspiration and new place to work on my writing.
When it's mid-winter or calving season or both, I think of a clear sky day with starchy white afternoon thunder clouds slowly building off in the distance barely peaking over the horizon. Just the thought of the hot, course sand on my feet and the intensity of the sun on my shoulders warms me up even though in the reality it's a cold winter day outside.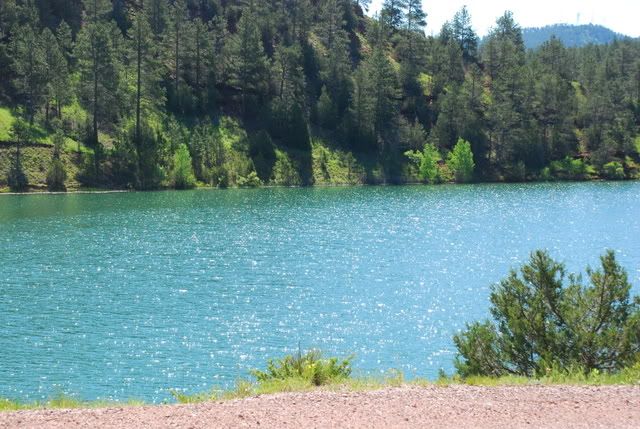 I can almost feel the instant shock to my skin as it goes from searing heat to invigorating cool water and my arms get goose-pimply at the thought of tepid breezes whisking at my skin in the cooling shade of the shore's lone tree. I can still hear the crescendo and lull of cicadas and remember how musky the reeds and wet sand smelled.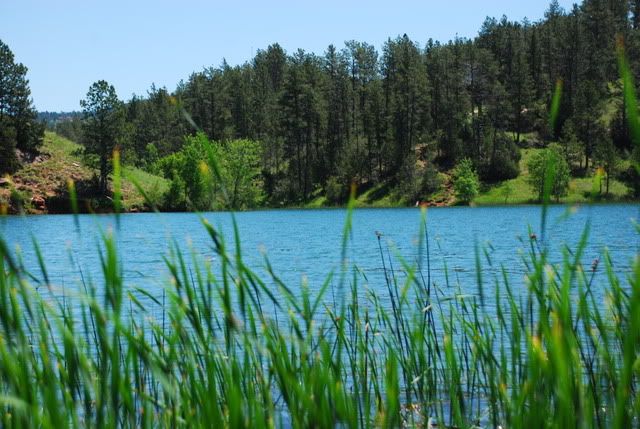 This is the only tree and source of shade by the water.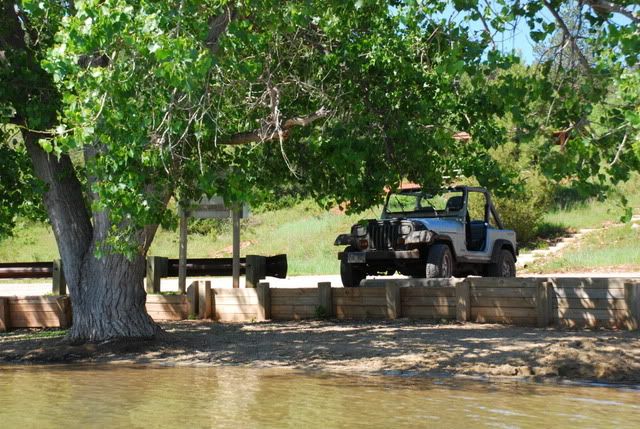 Of all the trees that have surrounded me in the Black Hills, this is the only tree I've ever had thoughts about or care to remember.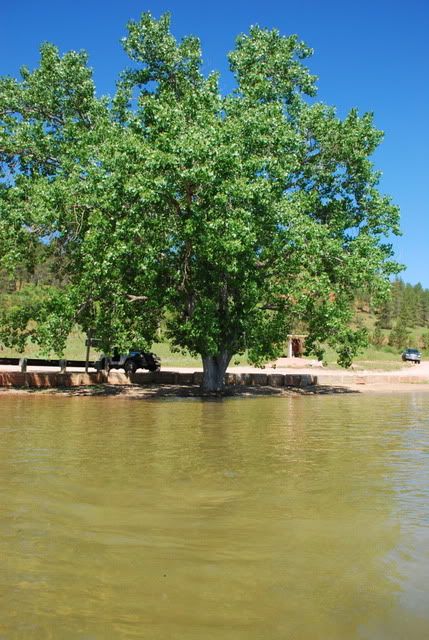 I think everyone has a special place they like to visit to soul search or contemplate, escape for a while or get one's bearings at different times in his or her life. This is one of mine.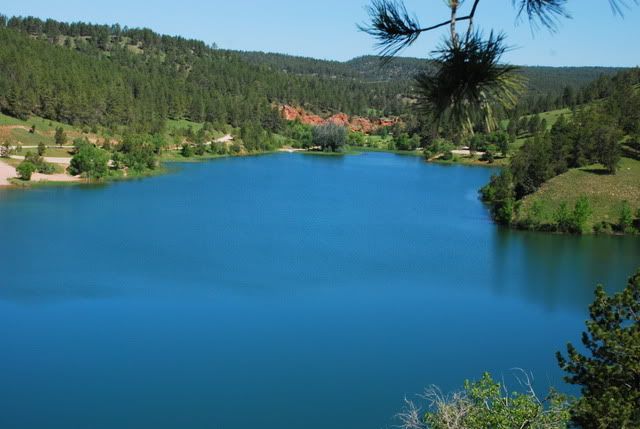 It's my thinking spot that provides a refresher for my mind and body especially when summer days get relentlessly hot (we don't have air conditioning here). While soaking up the calming effectiveness that this place gives me one day last summer, I decided to capture it with my camera, not just with my mind. I keep these pictures around my house. When I feel like I'm always cold or my days are filled with chaos I escape by thinking of this place and the hot summer days spent there, and I'm instantly warmer and calmer.
What place do you like to visit when it's the dead of winter? Consider photographing a favorite spot you like to go to or look at the next time you're there. You'll always be able to savor it any time of year.