Even though Someday Rider by Anne Herbert Scott is a children's book, it was one book I never got tired of reading to my kids when they were little.  I read it to them a lot, and it was also the book I picked to read to my kids' class as part of our school's participation in Read Across America Week when my son was in first grade and my daughter was in fourth grade.
I enjoyed reading Anne Herbert Scott's books to my kids because she's written good stories about ranch life and her books have wonderful illustrations that bring the story to life. Someday Rider is illustrated by Ronald Himler, who does a wonderful job of capturing the story in his illustrations.
This is a favorite book of mine because the main character reminds me of my boy when he was little. In Someday Rider, Kenny is a little tike not quite big enough to ride out with his dad and the other cowboys on horseback yet, and has to stay at home with his mom.
When he shares his disappointment with her that he can't go with the big cowboys, his mom tells him he'll get to ride with them "someday" when he's older and Kenny tells his mom, "I don't want to be a someday rider, I want to ride now."
While his dad and the other cowboys are gone, Kenny tries to ride Agnes goose, Amelia the sheep, and a Hereford calf around the yard to prove that he's ready to ride with the big cowboys.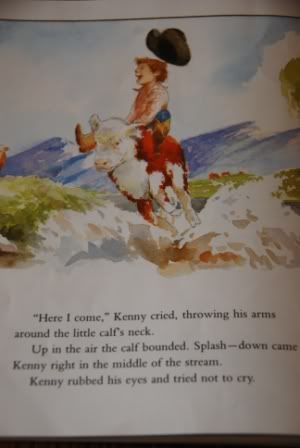 One day his mother decides to saddle up her old cow horse, Sagebrush for Kenny. Every day he practices riding and helps gather the milk cows back to the barn.
When Kenny's dad becomes worried about being short of hands to help round up cattle for branding, Kenny and his mom offer to help gather and finally Kenny gets to ride along.
My favorite part of the story is when Kenny tries to ride the Hereford calf. The pictures of that scene remind me of when our son rode one of our Hereford calves as a small cowboy.
Anne Herbert Scott is a Nevada Writer's Hall of Famer. She doesn't have a website, but her bio and bibliography can be read here.