When it comes to Christmas gifts for my friends I like to make them extra special. I do this by giving them used and dried up stuff and they all dig it.
Being the thrifty ranch wife that I am, I like being as frugal as possible without looking cheap since I have several people I want to remember at Christmastime. I prefer giving homemade gifts that don't take a lot of time to make and love to share my ideas with other frugals to promote the rancher way: reusing what one already has. I've mastered how to give homemade gifts that are clever, unique, appreciated, and most importantly, inexpensive. I pull this off by starting with what I have already and recycling things from other projects.
I came up with a new gift idea this year especially for the men in mind and made homemade elk jerky. Since my family prefers eating beef, I dug out packages of elk meat throughout the month of November to slice marinate, and dehydrate into jerky. I froze up the batches to bag up in small Ziploc sandwich bags right before Christmas. I added my sense of humor to the name of my jerky and printed up labels in hunter orange lettering from my computer. (The Pringle Poacher Association is a tongue-in-cheek organization that's existed for decades.)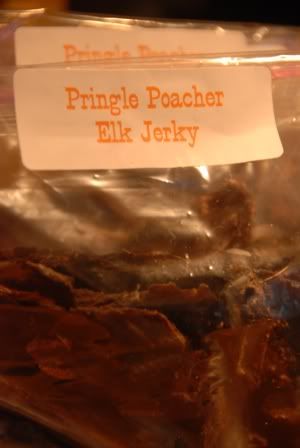 My favorite gifts to give are spiced teas, seasoning salts, and dip mixes. For my coffee-drinking friends I make different chocolate and coffee drink mixes and put them in glass or plastic jars I've cleaned out and saved.
 
I've given these kinds of gifts enough years now that when I go grocery shopping I also look at the shape, designs and lids of the jars of various condiments for reuse.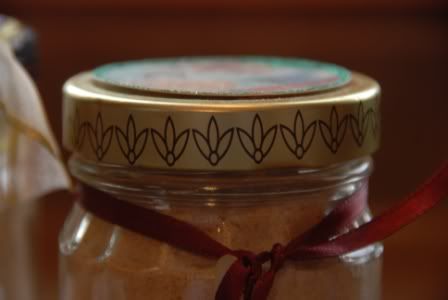 (Adams peanut butter jars and olive or maraschino cherry jars are my favorites.) Lids that have minimal writing on them or none at all don't require much decorating.
To repurpose a plain jar for a gift, I start by removing the labels first in a hot soapy soak and peel, scrape or scrub the label and paper off and use WD-40 on the stubborn ones. I run them through my dishwasher afterwards.
A tip on jars: Once a jar's been emptied and cleaned, I store them with baking soda or vinegar and newspaper to remove the odors from the jar's previous contents but have found that some odors are hard to remove completely. I generally fill these with taco-based and seasoning salt recipes. Peanut butter and mayonnaise jars (cardboard lid liners removed) work good for hot drink mixes with their wide mouths. 
Once jars are cleaned, I cut circles out of the fronts of Christmas cards in different sizes with my scrapbooking circle cutter.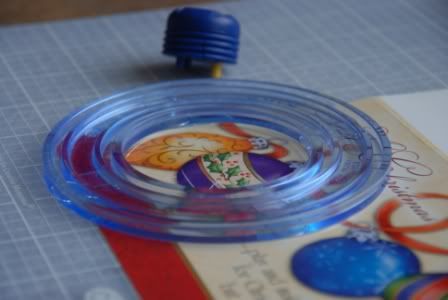 Some I add glitter glue around the edges.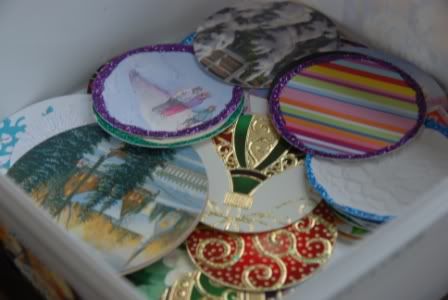 I use the circles and ribbon scraps to cover up any writing on the lids.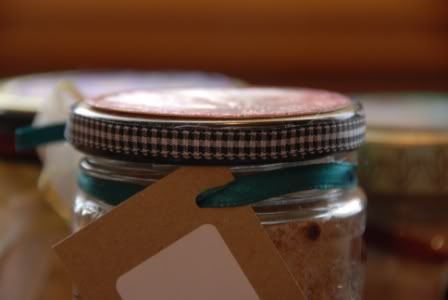 I use scrapbooking adhesive tape to affix the circles to the lids.
Hot glue works well for affixing ribbon to cover writing on the lid's edges but doesn't work as well for the circles.
If the container's original label or the glue doesn't come off easily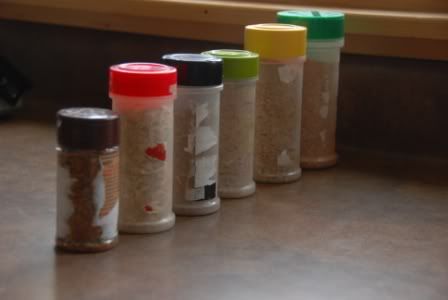 I use my paper cutter to trim a paper label to cover them up.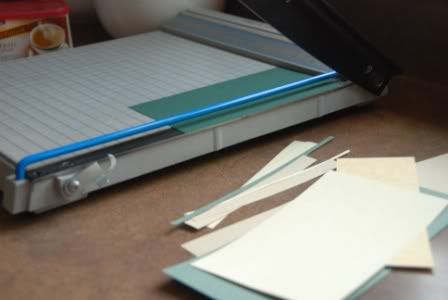 I make labels with the names of mixes in different fonts and colors and print them off on address label stickers using my computer and place on the jar (making decorative tags out of card stock labeling the contents works also).
Another tip I've learned the hard way: I always label the contents on the bottom of the jar right after I get done filing so I don't forget which mix is in the jar; especially if I don't have the labels printed up yet.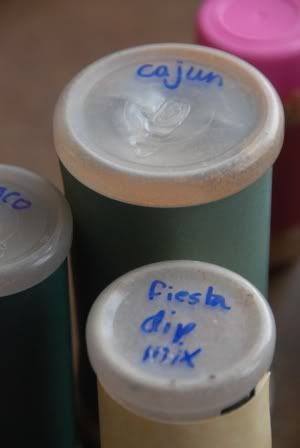 If I have any, I also include little plastic scoops from various store-bought mixes by drilling a hole into the handle and attach to the jar with a ribbon.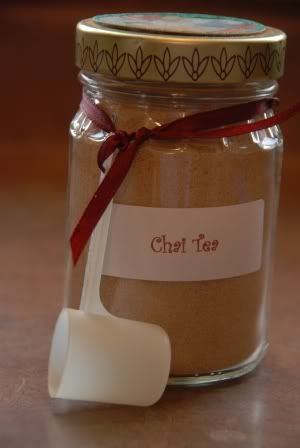 The different mix recipes I use make big batches and I since I usually buy my spices in bulk, I generally don't have to go out and buy much. I take an inventory of my spices and ingredients and make mixes according to what I have that could be used up, like instant tea, instant coffee, cocoa powder, or Tang and lemonade drink mixes and buy only what I need. I also always buy cartons of salt and especially sea salt or other spices whenever they're on sale for the different seasoning salts and dip mixes I always make. Once I have the mixes put together, I blend them real fine in a food processor or blender.
These mixes make great gifts because everybody likes trying them, they'll most likely get used up, and they aren't likely to become clutter or end up on a yard sale someday, which everyone appreciates. Many of my mixes have become popular and expected every year.