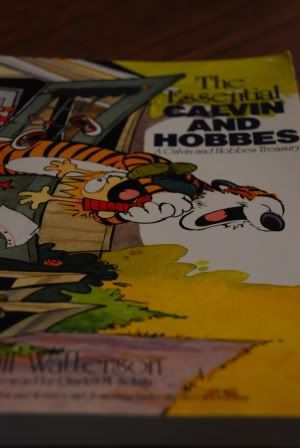 I've always known about the two cartoon characters Calvin and Hobbes but never took the time to get to know them well until my kids checked out a couple Calvin and Hobbes books from the library. The Calvin and Hobbes comic strip is the work of American cartoonist, Bill Watterson.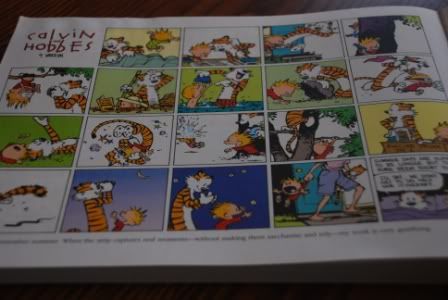 Calvin's a typical first grader who doesn't like going to school, hates girls but secretly likes Susie, gets bullied by a kid named Moe, has an elaborate imagination that he gets carried away with, can be a pill to parent, loves snow, and has a stuffed animal who comes to life—a tiger named Hobbes.
For a while, I felt left out at the dinner table when my kids would discuss with each other some of the things Calvin did or said. This bugged me. I like to be well informed with my kids' source of humor. The kids would laugh and exchange stories about Calvin or lines from the comic strip and I had to have them fill me in. I decided I was missing out and needed to be more informed on what sounded like a potentially good source for humor inspiration that I could use for my column and personal life.
 I got so engrossed in the comic strip I started buying Calvin and Hobbes books for our family's reading library.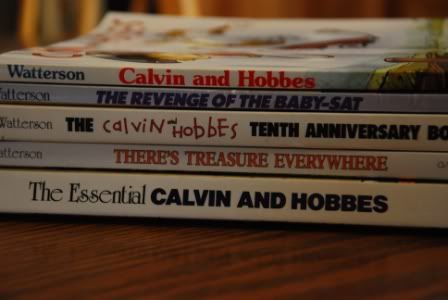 I found the comic strip enlightening and soon joined in the funny discussions with the kids over supper. The comic strip has since become a useful tool for the Sunday evening blues when my kids aren't ready for the school week to start or those times they need a little pick-me-up.
 
I've always relied on humor to medicate myself for a bad day. I've also referred to Calvin and Hobbes comic books to get out of my own occasional downer moods but I especially like reading Calvin and Hobbes to be comically inspired on difficult column writing days when I can't find the funny in my chosen topic.
If you haven't been introduced to Calvin and Hobbes, let me do the honors. There is a website dedicated to the comic strip called Digital Calvin and Hobbes  but you can also read Calvin and Hobbes at http://www.gocomics.com/calvinandhobbes/.